Management Team
Steve Cotton
Chief Executive Officer, President and Director
Steve Cotton has served as President of the Company since May 2, 2018 and was promoted by the Board of Directors to President and CEO joining the Board as an Executive Director in January, 2019. Steve also served as Chief Commercial Officer of the Company from January 2015 to June, 2017. Previously, Steve co-founded Canara, Inc. (formerly Data Power Monitoring and IntelliBatt) in December 2001 and served as its Chief Executive Officer through the sale of the company to a private equity firm in June 2012, after which he served as Founder and Executive Chairman until April 2014. Canara (now part of CPG Data Center Innovators) is a global provider of stationary battery systems with integrated monitoring systems and cloud-based monitoring services to many of the largest data center operators. Prior to Canara, Steve led a team to commercialize Sendmail (the Worlds' most commonly used Internet email open source software) from free open source to a paid for commercial offering for Internet service providers and cloud offerings requiring mass email volume management including DoubleClick's standardization (acquired by Google). Steve's career began in the early days of voice messaging systems, including Octel Communications (through its $1.1B exit to Lucent Technologies in 1997 and now part of Avaya). From International Product Manager, to Product Manager for Multimedia, Steve then became the top market development person on a staff of 100+ for 2 years running while managing the AT&T Wireless account, then developing new wireless and local exchange carrier markets. His decision to convince AT&T Wireless (and ultimately other operators which followed) to offer voice messaging for free vs. charge, resulted in multi-million dollar sales of Octel equipment to each region. From April 2014 to January 2015 and June 2017 to April 2018, Steve managed his private investments.
Why Aqua

During my time at Canara, part of my duties was to source batteries from battery manufacturers and battery recycling partners in the U.S., China and Europe so I spent quite a bit of time in battery manufacturing and recycling facilities. In 2014, after exiting Canara and while looking for new opportunities, I saw the original pilot electrolyzer that the founders had built making pure, spongy lead before my eyes and immediately knew that AquaRefining could transform energy storage. Knowing that our Aqua journey could transform an industry and significantly help the planet reduce harmful emissions, in the summer of 2019, my family and I moved from our native Bay Area to Tahoe-Reno. We wanted to be fully immersed in this exciting Company and to see through our vision of upgrading an industry and the environment with such a critical core set of technologies.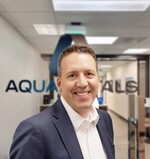 Judd Merrill
Chief Financial Officer
Judd joined Aqua Metals in November 2018 from Klondex Mines Ltd., a Nevada based international mining company where he was Director of Finance/Accounting. Judd was responsible for overseeing the SEC compliance and the management of the Company's $200+ million budget over five subsidiaries. Before its acquisition by Hecla, Klondex was a $500 million dollar company traded on the New York Stock Exchange and the Toronto Stock Exchange. Prior to joining Klondex, Judd spent five years as Chief Financial Officer and Corporate Secretary of Comstock Mining Inc., a publicly traded gold company in Nevada where he was instrumental in establishing financial modeling and analytics. Judd was responsible for implementing procedures that reduced annual administrative costs by 50%, and handled vendor negotiations that conserved funds and managed liquidity. Judd worked directly with bankers, lenders, investment funds and major shareholders to lead the Company's fundraising and capital management activities. Judd also worked as a controller at Fronteer Gold Inc. and as an assistant controller at Newmont Mining Corp., where he developed strong financial planning, treasury and cash management experience in the mining sector. Judd began his career at Deloitte & Touche LLP and spent six years working in broader financial accounting, reporting and internal controls while managing corporate financial activities.
Judd holds a Bachelor of Science in accounting from Central Washington University and a Masters of Business Administration from the University of Nevada, Reno and is a certified public accountant.
Why Aqua

For the majority of my career I have had the opportunity to work with many companies in the early stages of their life cycle, mainly in the mining and metals industry. Early stage companies are dynamic, fast paced and innovative, while at the same time pushing boundaries. This is where my passion lies. Aqua Metals is not only in the metals industry but it has a new and game changing technology that could be great for the world. Being part of a Company that will deliver the worlds highest purity lead while providing such significant environmental benefits is extremely exciting. Knowing the highly positive impact we will make on our plant and the metals market for years to come is why I am here.
Ben Taecker
Chief Engineering and Operating Officer
Ben has over 20 years of experience in manufacturing and operations leadership and has been with Aqua Metals since January of 2017. Prior to relocating his family to the Tahoe-Reno area to join Aqua Metals, he spent six years in progressive leadership roles at the Johnson Controls Inc. ("JCI Power Systems Division" now Clarios) Lead Acid Battery Recycling Center in Florence, South Carolina and was a leader in the early planning, construction, commissioning, and scaling of that facility. Ben also led the engineering team to improve battery recycling processes in the new smelter which resulted in a 70% reduction in smelting emissions. Ben was instrumental in delivering a compliant plant for Clarios. He has experience in startups, environmental regulation compliance, process development and operational excellence. Ben has years of design management experience including complex design contracts for the U.S. military. He is highly motivated about being a key part of the new processes used by Aqua Metals to eliminate many of the safety and environmental hazards found at traditional smelters while making the purest lead in the world. Mr. Taecker has a Mechanical Engineering degree from South Dakota State University.
Why Aqua

After six years of working in a traditional smelter, I was recruited to Aqua Metals. After understanding the science and seeing that the technology works, I quickly identified that this was the future of lead acid battery recycling and moved the family from South Carolina to Tahoe-Reno. The human hazards of processing lead at high temperatures and the environmental hazards that come along with operating a smelter could be completely eliminated. My time at Aqua Metals has done nothing but increase my excitement with the process improvements resulting in the safest, most environmentally sustainable, and most energy efficient method of recycling batteries. These are very exciting times at Aqua Metals and I am proud to be part of this industry changing Company.
Dave McMurtry
Chief Business Officer
Dave McMurtry, an experienced Silicon Valley high-tech executive with expertise in renewable energy and international markets development, serves as the Chief Business Officer for Aqua Metals. His passion for renewable energy led him to Aqua Metals, where he is responsible for leading the team in exploring and strategically pursuing multiple paths to scalable growth for LI AquaRefining which reduces the need for mining. Dave's global experience includes working in more than 80 countries on five continents. Previous to Aqua Metals, Dave was the CEO of the Global Stars Foundation at the Al Dabbagh Group in Jeddah, Saudi Arabia, focused on investing in local sustainable solutions in Asia, Africa, and Latin America. For the last 25 years, Dave has held multiple executive positions, including with Intuit Inc, and Habitat for Humanity International, while overseeing different organizations' global strategic planning, implementation, operations, corporate development and M&A.
Dave is a Sloan Fellow with a Masters in Business from Stanford University and a Bachelor of Science in Business Administration from California Polytechnic University.
Why Aqua

As someone focused on developing and executing sustainable solutions to global challenges, I know that my decades of experience and passion perfectly align with Aqua Metals' mission of creating a safe, sustainable energy future. My role as CEO of the Global Stars Foundation at the Al Dabbagh Group in Jeddah, Saudi Arabia, sought to end poverty by investing in local solutions, including sustainable water systems powered by renewable energy. In my role at Aqua Metals, I am looking to power the same meaningful impact by partnering with companies in the LIB ecosystem to license our innovative and cost-effective metals recycling technology, enabling them to effectively address the future environmental timebomb of used lithium-ion batteries.