Press Releases
Aqua Metals Selects Tahoe-Reno for Commercial Lithium Battery Recycling Campus
Commencing phased development this year to meet soaring demand for domestic supply of recycled metals essential to electric vehicles and energy storage
RENO, Nev., Jan. 18, 2023 (GLOBE NEWSWIRE) -- Aqua Metals, Inc. (NASDAQ: AQMS) ("Aqua Metals" or the "Company"), a pioneer in sustainable lithium battery recycling, today announced the completion of due diligence on a property in Tahoe-Reno, as well as plans to commence phased development of a five-acre recycling campus designed to process more than 20 million pounds of lithium-ion battery material each year with its innovative Li AquaRefining™ technology.
Nevada is the only U.S. state with companies across every facet of the lithium battery supply chain (mining, manufacturing, and recycling), and Aqua Metals is planning its state-of-the-art recycling campus in the Tahoe-Reno Industrial Center (TRIC) in the heart of the region's growing battery ecosystem. Aqua Metals intends to design and develop the campus with the goal of sustainably recycling enough critical metals - like lithium hydroxide, nickel, copper, and cobalt - from spent lithium batteries to supply the raw materials for manufacturing 100,000 average EV battery packs every year.
The Company's patent-pending Li AquaRefining™ technology is an innovative, closed-loop recycling system based on electroplating, producing high-purity metals with electricity instead of polluting furnaces or one-time-use chemical waste of other recycling approaches. Aqua Metals currently operates what it believes to be the first sustainable lithium battery recycling facility at its nearby Li AquaRefining pilot plant and plans to power the new commercial-scale campus using on-site renewable energy and purchase additional carbon-free energy to match its usage and overall carbon impact.
Aqua Metals phased campus vision for sustainable lithium-ion battery recycling, showing the existing building (Phase One, lower right) and planned future expansions
"Our campus vision is a testament to Aqua Metals' commitment to the future of sustainable lithium battery recycling essential to meeting U.S. electrification and battery manufacturing ambitions in the coming decade," said Steve Cotton, President and CEO, Aqua Metals. "Our plans also represent a meaningful investment in clean energy jobs in the Nevada battery industry, as a leader in the effort to create a secure and sustainable domestic supply chain for the metals needed to power electric vehicles and build battery energy storage systems."
Aqua Metals has entered into a definitive agreement to acquire the five-acre site and expects to complete the purchase of the new campus, including an existing building, next month subject to customary closing conditions and Aqua Metals' receipt of the necessary financing with which to finance the purchase. The Company's initial plans call for upgrading the current building to install a commercial-scale Li AquaRefining system capable of recycling 3,000 tons of lithium battery 'black mass' each year. The Company expects to complete redevelopment of the current space and finalize equipment installation this year, and to commence operations at the new campus in the first quarter of 2024.
Aqua Metals intends to fund the purchase of the new property with a non-dilutive loan and has entered into a non-binding letter of intent with a mortgage lender that Aqua Metals has worked with in the past to acquire the necessary financing for the property purchase.
Aqua Metals also intends to finance the development of Phase One through a non-dilutive loan. The Company is currently in discussions with a provider of debt financing that has provided financing in the past.
"We believe our phased campus will enable us to scale cost-effectively as we acquire new customers and build new partnerships. We expect that Phase One will process 3,000 MT of black mass per year at full capacity -- 30 times that of our current pilot operation -- resulting in significant revenue for the company," continued Mr. Cotton.
In Phase Two, subject to the successful operation of the first lithium battery recycling facility, Aqua Metals expects to build a second lithium battery recycling facility at the property with capacity to process an additional 6,000 tons of lithium black mass per year. In this phase, the company also anticipates building additional space for enhanced research and development into sustainable recycling innovations and processing novel lithium battery chemistries to further expand the capabilities of the clean metals recycling campus.
"With our new campus, we are taking what we've already learned from building and operating our successful Li AquaRefining pilot facility and scaling it at the right pace," said Ben Taecker, Aqua Metals' Chief Engineering and Operating Officer. "With on-site clean energy, and our ground-breaking Lithium AquaRefining technology, we believe this will be the cleanest and safest lithium battery recycling facility in the world."
About Aqua Metals
Aqua Metals, Inc. (NASDAQ: AQMS) is reinventing metals recycling with its patented AquaRefining™ technology. The company is pioneering a sustainable recycling solution for materials strategic to energy storage and electric vehicle manufacturing supply chains. AquaRefining™ is a low-emissions, closed-loop recycling technology that replaces polluting furnaces and hazardous chemicals with electricity-powered electroplating to recover valuable metals and materials from spent batteries with higher purity, lower emissions, and minimal waste. Aqua Metals is based in Reno, NV and operates the first sustainable lithium battery recycling facility at the company's Innovation Center in the Tahoe-Reno Industrial Center.
To learn more, please visit www.aquametals.com
Aqua Metals Social Media
Aqua Metals has used, and intends to continue using, its investor relations website (https://ir.aquametals.com), in addition to its Twitter, LinkedIn and YouTube accounts at https://twitter.com/AquaMetalsInc (@AquaMetalsInc), https://www.linkedin.com/company/aqua-metals-limited and https://www.youtube.com/channel/UCvxKNWcB69K0t7e337uQ8nQ respectively, as means of disclosing material non-public information and for complying with its disclosure obligations under Regulation FD.
Safe Harbor
This press release contains forward-looking statements concerning Aqua Metals, Inc. Forward-looking statements include, but are not limited to, our plans, objectives, expectations and intentions and other statements that contain words such as "expects," "contemplates," "anticipates," "plans," "intends," "believes", "estimates", "potential" and variations of such words or similar expressions that convey the uncertainty of future events or outcomes, or that do not relate to historical matters. The forward-looking statements in this press release include our expectations for our pilot recycling plant, our ability to recycle lithium-ion batteries and the expected benefits of recycling lithium-ion batteries. Those forward-looking statements involve known and unknown risks, uncertainties, and other factors that could cause actual results to differ materially. Among those factors are: (1) the risk that we may not be able to acquire the funding necessary to acquire the five-acre campus; (2) the risk that we may not be able to close on our acquisition of the five acre campus; (3)the risk that we may not be able to develop the recycling facility on the five-acre campus within the expected time or at all; (4) even if we are able to develop the recycling facility, the risk that we may not realize the expected benefits;(5) the risk that we may be unable to successfully recycle other valuable metals in addition to copper from lithium black mass using our AquaRefining technology; (6) the risk that licensees may refuse or be slow to adopt our AquaRefining process as an alternative to smelting in spite of the perceived benefits of AquaRefining; (7) the risk that we may not realize the expected economic benefits from any licenses we may enter into; (8) the risk that we may not be able to access additional capital, through the sale of our TRIC facilities and equipment or otherwise, as and when needed and (9) those other risks disclosed in the section "Risk Factors" included in our Annual Report on Form 10-K filed on February 24, 2022. Aqua Metals cautions readers not to place undue reliance on any forward-looking statements. The Company does not undertake and specifically disclaims any obligation to update or revise such statements to reflect new circumstances or unanticipated events as they occur, except as required by law.
Contact Information:
Investor Relations
Contact: Robert Meyers, FNK IR
646-878-9204
aqms@fnkir.com
Media
Contact: Ariane Wolff, Warner Communications
978-729-3542
ariane@warnerpr.com
Source: Aqua Metals
A photo accompanying this announcement is available at https://www.globenewswire.com/NewsRoom/AttachmentNg/5cb491ea-5ecc-4410-834d-b9c8965e2184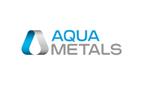 Source: Aqua Metals

Released January 18, 2023