Press Releases
Aqua Metals Successfully Completes Li AquaRefining Pilot, Advances Towards Commercial-Scale Lithium Battery Recycling Operations
Company recovers all valuable materials from spent lithium batteries, to begin generating revenues from recycling critical battery metals and materials this year
RENO, Nev., June 29, 2023 (GLOBE NEWSWIRE) -- Aqua Metals, Inc. (NASDAQ: AQMS) ("Aqua Metals" or the "Company"), a pioneer in sustainable lithium-ion battery recycling, today announced the successful completion of its groundbreaking Li AquaRefining™ recycling pilot, transition to 24/5 operations and production of high-purity, saleable quantities of sustainably recycled battery materials.

The Company completed the pilot facility commissioning with the recovery of both cobalt and manganese dioxide, completing the suite of valuable metals (including high-purity lithium hydroxide, nickel, and copper) the Company reclaims from spent lithium batteries using its patented AquaRefining technology. Aqua Metals believes this advance makes it the first fully operational lithium battery recycler using advanced electro-hydrometallurgy - replacing polluting furnaces and intensive chemicals typical of recycling with electricity to separate the critical metals from spent lithium batteries.
"Completing commissioning and moving into 24/5 operations at our Li AquaRefining Pilot is a tremendous milestone for Aqua Metals and represents the future of sustainable lithium battery recycling in the US and beyond," said Ben Taecker, Chief Engineering & Operations Officer at Aqua Metals. "Not only are we demonstrating the scalability of our solution, but also our significant advantages in recovery rates, emissions reductions, and worker safety compared to current battery recycling facilities."
The Company has completed the pilot - from finalized design through to operations - in roughly eight months' time, and with a transition to 24-hour operations, is scaling the pilot facility to a capacity of 75 tons per annum (tpa) of processed black mass input. Based on the success of the pilot, the Company also continues the simultaneous phased development and commissioning of its first commercial-scale facility, which was initiated earlier this year and is well underway. The first phase of Aqua Metals' recycling campus will be designed to process 3,000tpa black mass, for which the Company has secured both sufficient supply of black mass to reach scale and is in the process of finalizing off-take agreements for the recycled materials. The Company expects that at current metals prices and projected processing costs at scale, its Phase 1 recycling facility should generate positive cash flow.
Aqua Metals intends to sell the high-purity and battery-grade materials produced at the pilot to metals buyers and start generating initial revenue from recycled metals in the third quarter. The Company will also continue distributing its high-purity production samples to existing and potential customers in battery and cathode manufacturing, advancing ongoing partnership and long term off-taker discussions.
"As previously guided, the successful execution of our rapid scaling strategy is a testament to the innovation and adaptability of our entire engineering and operations team," said Steve Cotton, President & CEO of Aqua Metals. "The lessons learned from our Pilot and improvements in our modular solution reaffirm our confidence in our commercialization strategy. We have secured more than 3,000 tons of black mass to fuel our operations, enough supply to reach commercial scale in 2024. Aqua Metals intends to capitalize on its first-mover advantage, driving US leadership in sustainable battery recycling, and building a robust domestic supply chain for the critical minerals that cleanly power an electrified future."
Earlier this year, Aqua Metals announced its vision for the development of a five-acre clean metals recycling campus, located in Tahoe-Reno, with space for more than 10,000tpa of total capacity once completed. The Company is planning for a phased development of the campus, beginning with the already commenced redevelopment of an existing building on-site into the first commercial-scale Li AquaRefinery, targeting 3,000tpa capacity.
Aqua Metals' regenerative electro-hydrometallurgical recycling method offers a substantial improvement over traditional pyrometallurgical and hydrometallurgical recycling techniques, which produce much higher emissions, lower recovery rates, and significant landfill waste. The AquaRefining process vastly reduces the environmental impact of recycling lithium batteries as compared to other processes while providing a higher yield of high-purity metals essential for the burgeoning US battery manufacturing industry.
Additional Resources & Tour Video
Learn more about Aqua Metals' Li AquaRefining Pilot and see a guided tour video at www.aquametals.com/pilot-recycling-hub
About Aqua Metals
Aqua Metals, Inc. (NASDAQ: AQMS) is reinventing metals recycling with its patented AquaRefining™ technology. The company is pioneering a sustainable recycling solution for materials strategic to energy storage and electric vehicle manufacturing supply chains. AquaRefining™ is a low-emissions, closed-loop recycling technology that replaces polluting furnaces and hazardous chemicals with electricity-powered electroplating to recover valuable metals and materials from spent batteries with higher purity, lower emissions, and minimal waste. Aqua Metals is based in Reno, NV and operates the first sustainable lithium battery recycling facility at the company's Innovation Center in the Tahoe-Reno Industrial Center.
To learn more, please visit www.aquametals.com
Aqua Metals Social Media
Aqua Metals has used, and intends to continue using, its investor relations website (https://ir.aquametals.com), in addition to its Twitter, LinkedIn and YouTube accounts at https://twitter.com/AquaMetalsInc (@AquaMetalsInc), https://www.linkedin.com/company/aqua-metals-limited and https://www.youtube.com/channel/UCvxKNWcB69K0t7e337uQ8nQ respectively, as means of disclosing material non-public information and for complying with its disclosure obligations under Regulation FD.
Safe Harbor
This press release contains forward-looking statements concerning Aqua Metals, Inc. Forward-looking statements include, but are not limited to, our plans, objectives, expectations and intentions and other statements that contain words such as "expects," "contemplates," "anticipates," "plans," "intends," "believes", "estimates", "potential" and variations of such words or similar expressions that convey the uncertainty of future events or outcomes, or that do not relate to historical matters. The forward-looking statements in this press release include our ability to recycle lithium-ion batteries and the expected benefits of recycling lithium-ion batteries. Those forward-looking statements involve known and unknown risks, uncertainties, and other factors that could cause actual results to differ materially. Among those factors are: (1) the risk that we may not be able to acquire the funding necessary to develop our recently acquired five-acre campus; (2) the risk that we may not be able to develop the recycling facility on the five-acre campus within the expected time or at all; (3) even if we are able to develop the recycling facility, the risk that we may not achieve commercially scaled or viable recycling operations or otherwise realize the expected benefits; (4) the risk that licensees may refuse or be slow to adopt our AquaRefining process as an alternative in spite of the perceived benefits of AquaRefining; (5) the risk that we may not realize the expected economic benefits from any licenses we may enter into; and (6) those other risks disclosed in the section "Risk Factors" included in our Quarterly Report on Form 10-Q filed on May 4, 2023. Aqua Metals cautions readers not to place undue reliance on any forward-looking statements. The Company does not undertake and specifically disclaims any obligation to update or revise such statements to reflect new circumstances or unanticipated events as they occur, except as required by law.
Contact Information:
Investor Relations
Bob Meyers & Rob Fink
FNK IR
646-878-9204
aqms@fnkir.com
Media
Jennifer Johnson Avril
Warner Communications
917-982-9012
jennifer@warnerpr.com
Source: Aqua Metals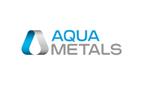 Source: Aqua Metals

Released June 29, 2023