Press Releases
Aqua Metals Advocates for Circular Battery Economy at APEC Multistakeholder Forum
Innovative lithium battery recycler raises the need for sustainable recycling practices with global leaders and delegates from throughout the Pacific region
RENO, Nev., Nov. 16, 2023 (GLOBE NEWSWIRE) -- Aqua Metals, Inc. (NASDAQ: AQMS) ("Aqua Metals" or the "Company"), a pioneer in sustainable lithium-ion battery recycling, presented its case that building a truly circular supply chain for critical minerals requires building an economy centered around sustainability at this year's Asia Pacific Economic Cooperation (APEC) Multistakeholder Forum. The Company's Chief Business Officer, Dave McMurtry, joined a panel discussion at the gathering of global leaders from various governments, civil society organizations, Indigenous Peoples, youth, workforce, and women's groups that convened as part of the APEC summit in San Francisco to foster collaboration and dialogue throughout the Pacific region.

The APEC Multistakeholder Forum (AMF) was organized by the Commonwealth Club World Affairs with the support of the US Department of State and the APEC Secretariat. In opening the AMF event, Ambassador Matt Murray, United States' Senior Official for APEC, shared the following perspective: "Although the impact of climate change affects everyone, it does not affect all communities equally. Some in the APEC region—often those who have not historically had opportunities to participate in making decisions to address the climate crisis—experience greater suffering."
During the forum, Mr. McMurtry shared the following remarks as part of a panel discussion: "The global push to electrify everything and transform our economy with abundant renewable energy is reliant on creating a sustainable and circular supply chain for the critical minerals and resources that underpin these clean technologies. We must understand that sustainability extends beyond only emissions reduction. We see the path to a decarbonized future that equitably distributes both its challenges and its rewards."
"The environmental and community impacts of sourcing critical minerals for the clean energy economy are well documented. By pioneering advancements in sustainable recycling technology, we are enabling the circular battery economy and decarbonizing large portions of the clean energy supply chain, setting a new paradigm for the industry—one that minimizes the environmental impacts of critical minerals and offers equitable economic opportunities to host communities. These principles of a circular economy are essential to achieving our most ambitious goals to combat climate change and provide a blueprint for an inclusive energy transition that respects both the planet and its people."
Aqua Metals' presence at the APEC summit is a testament to its leadership in addressing the pressing global challenge of climate change through sustainable solutions for the critical minerals that will power an electrified future. The Company's contribution to the panel discussion underscored the importance of inclusivity in the transition to cleaner energy sources, emphasizing that the benefits of such transitions should not be at the cost of marginalized communities.
The forum's focus on green jobs and meaningful work aligned closely with Aqua Metals' mission to create safe, sustainable, and desirable jobs in the recycling sector. With its innovative approach to battery recycling, Aqua Metals is making a significant impact on local communities while contributing to the global shift towards net-zero carbon economies.
About Aqua Metals
Aqua Metals, Inc. (NASDAQ: AQMS) is reinventing metals recycling with its patented AquaRefining™ technology. The Company is pioneering a sustainable recycling solution for materials strategic to energy storage and electric vehicle manufacturing supply chains. AquaRefining™ is a low-emissions, closed-loop recycling technology that replaces polluting furnaces and hazardous chemicals with electricity-powered electroplating to recover valuable metals and materials from spent batteries with higher purity, lower emissions, and minimal waste. Aqua Metals is based in Reno, NV and operates the first sustainable lithium battery recycling facility at the Company's Innovation Center in the Tahoe-Reno Industrial Center.
To learn more, please visit www.aquametals.com.
Aqua Metals Social Media
Aqua Metals has used, and intends to continue using, its investor relations website (https://ir.aquametals.com), in addition to its Twitter, LinkedIn and YouTube accounts at https://twitter.com/AquaMetalsInc (@AquaMetalsInc), https://www.linkedin.com/company/aqua-metals-limited and https://www.youtube.com/@AquaMetals respectively, as means of disclosing material non-public information and for complying with its disclosure obligations under Regulation FD.
Safe Harbor
This press release contains forward-looking statements concerning Aqua Metals, Inc. Forward-looking statements include, but are not limited to, our plans, objectives, expectations and intentions and other statements that contain words such as "expects," "contemplates," "anticipates," "plans," "intends," "believes", "estimates", "potential" and variations of such words or similar expressions that convey the uncertainty of future events or outcomes, or that do not relate to historical matters. The forward-looking statements in this press release include our expectations for our pilot recycling plant, our ability to recycle lithium-ion batteries and the expected benefits of recycling lithium-ion batteries. Those forward-looking statements involve known and unknown risks, uncertainties, and other factors that could cause actual results to differ materially. Those risks disclosed in the section "Risk Factors" are included in our Quarterly Report on Form 10-Q filed on November 8, 2023. Aqua Metals cautions readers not to place undue reliance on any forward-looking statements. The Company does not undertake and specifically disclaims any obligation to update or revise such statements to reflect new circumstances or unanticipated events as they occur, except as required by law.
Contact Information:
Investor Relations
Bob Meyers & Rob Fink
FNK IR
646-878-9204
aqms@fnkir.com
Media
Jennifer Johnson Avril
Warner Communications
917-982-9012
jennifer@warnerpr.com
Source: Aqua Metals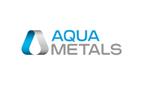 Source: Aqua Metals

Released November 16, 2023